Back to Product Listing
Steampunk Flower LARGE CUFF Bracelet Floral Brass Watch Parts Gears Ice Resin Chain Hand Patina Big Wrist B0077 by Robin Taylor Delargy RTD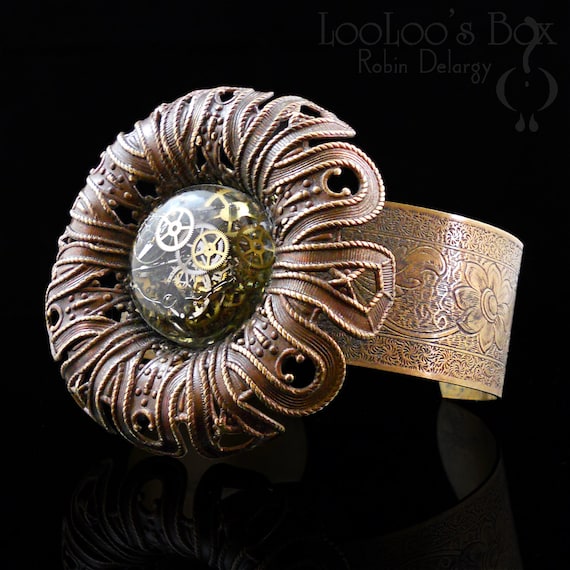 Floral Steampunk Cuff Bracelet, hand crafted from an etched floral raw brass cuff and a fancy raw brass stamped floral piece that I have patina'd by hand in wonderful warm bronze hue. This is a genuine color patina attained by controlled exposure to Liver of Sulfur; not painted, dyed, colorized etc. It was then lacquered to preserve the color. Brass chain encircles the base of the flower.
In the center of the stylized sunflower focal is a steampunk cabochon cast by me, chock full of assorted metal gears, cogs & other bits and pieces from defunct vintage mechanical watches. No two are ever alike!
The bracelet is both glued AND riveted for durability.
The cuff itself is of a size that should fit most larger adult wrists and is flexible enough for you to easily tweak the fit. It currently measures 2-3/4" across the inside of the cuff; the steampunk flower measures 2-1/2" in diameter. The central cabochon is about 25mm.
Photo #4 is to illustrated the scale of this piece; I wear a Ladies L glove and my wrist is a bit over 7 inches in diameter. It slips on & off without strain and is not snugged down to fit.
Like all my jewelry, this piece was hand crafted by me in my home studio in Tacoma, WA.
#B0077
A Fantasticality (formerly LooLoo's Box) Original. Design, Photos and all content © Robin Taylor Delargy, All Rights Reserved.