Back to Product Listing
Copper Oak Leaf & Filigree Statement Necklace with Copper Beads and Hyacinth Red Orange Crystal N0272 by Robin Taylor Delargy RTD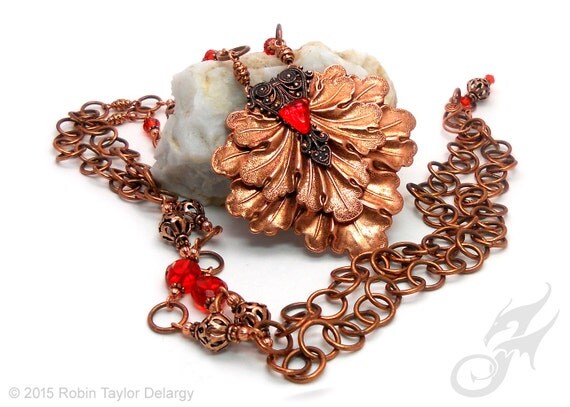 This statement necklace is impossible not to notice. Old Rose Ox copper plated brass oak leaves in two sizes are tied together with a very dark copper ox filigree and emblazoned with a fiery Hyacinth orange-red flatback crystal. The necklace is made from 10mm copper chain that I have interspersed with copper beads and more fiery red-orange crystals on copper wire. The necklace is 43 inches long and closes with a hand made copper hook. A matching dangle hangs from the hook at the center point, so that it is centered above the pendant when the necklace is worn doubled. Photographed on a life-size (albeit petite) vintage dressmaker's dummy.
The oak leaves and filigree are American made and American plated brass, from old vintage tooling, from one of the best sources available for quality plated American brass.
SPECS:
Necklace Length: 43 Inches, excluding the pendant
Pendant Size: 2-3/8" x 2-3/8"
Hand crafted, by me, in my home studio in Tacoma, WA.
Gift Boxed
#N0272
A Fantasticality (formerly LooLoo's Box) Original. Design, Photos and all content © Robin Taylor Delargy, All Rights Reserved.