Back to Product Listing
Hammered Verdigris Copper Necklace w/ Black Pearls & Chrysocholla, Riveted, Natural Green Patina, Repurposed Copper, City Hall Relics #N0693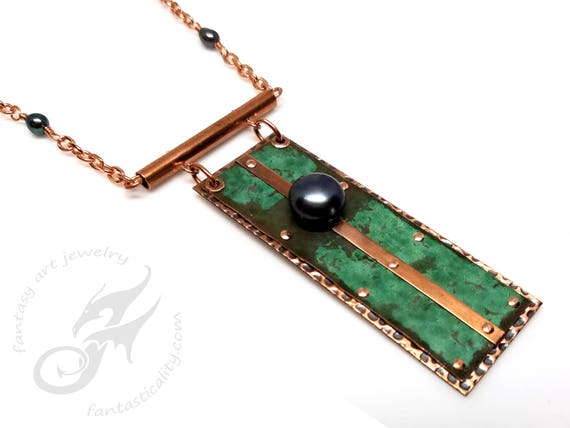 This sleek and stunning metalwork necklace was made from salvaged copper from the original roof of the old Tacoma City Hall building, built in 1892-1893 (on the right in the old photograph). The natural verdigris patina is original; hammering compresses and polishes it, giving it this marvelous enameled look. It's a distressed finish, with the old copper showing through the green verdigris in places. I have layered it over oxidized hammered copper; a bright copper stripe adds a lovely contrast. A large 10mm half-drilled black freshwater pearl add quiet sophistication to the face of the focal. The neckline is embellished with black freshwater pearls and chrysocholla beads in five stations along the cut edge solid copper curb chain.
A good photo of the building with the old copper roof, shortly before repair: https://www.flickr.com/photos/erniemisner/9039719128/
The focal lies flat, and measures about 3 x 1 inches.
100% solid copper (not plated) chain makes up the necklace. The necklace measures 34 inches long, closing with a copper plated brass lobster claw clasp. Signed and numbered on the back.
Note: This is old, old copper. To keep it looking its best, do not wear while swimming, bathing or sleeping. Do not use polishing compounds or cloths on the heart itself. If it gets dirty, wipe gently with a damp cloth and dry thoroughly. And please don't let it rattle around in a jewelry box with a bunch of other jewelry; no jewelry likes that, I assure you. Treat it with care and it will last for many generations.
Hand crafted in my home studio in Tacoma, WA. Gift boxed.
#N693
A Fantasticality (formerly LooLoo's Box) Original. Design, Photos and all content © 2016 Robin Taylor Delargy, All Rights Reserved.