Back to Product Listing
Metalwork GODDESS Necklace, Primitive Style ~ Nickel over Copper, Turritella Fossil Agate Cabochon, Lace Agate, Carnelian ~ Riveted ~ #N0689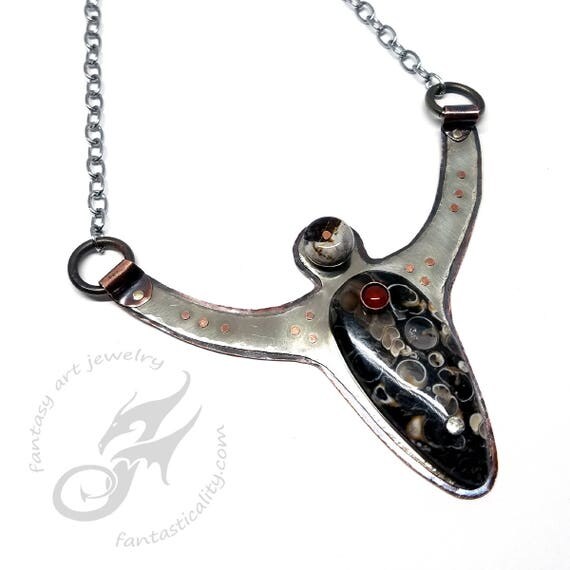 A stylized goddess figure hangs at the base of your throat from stainless steel chain, a silent presence. Hers is a simple yet strong figure, inspired by prehistoric Mother sculptures representing the divine feminine. She is hand crafted from stone and metal and constructed using rivets. No solder, no glue - born of the earth, simple tools and imagination.
Each goddess necklace is created individually, the design determined by the shape and color of the stone cabochon used for her body. In this case, the light colored fossil turritella shells contrast with a dark brown stone background, so I chose to layer nickel silver (also known as German silver) over oxidized copper. A crazy lace agate represents her head, and a bezel-set bright carnelian cabochon represents her heart. All rivets are either copper or sterling silver; the nickel does not touch your skin, so there's no worries about nickel allergy.
She measures 3-3/4 inches across at the rings, and 2-3/8 inches from the top of her head. The chain and lobster claw clasp are stainless steel; the necklace adjusts up to 21 inches long.
Hand crafted in m home studio in Tacoma, WA. Signed and numbered.
#N0689
A Fantasticality (formerly LooLoo's Box) Original. Design, Photos and all content © 2017 Robin Taylor Delargy, All Rights Reserved.