Back to Product Listing
Metalwork Copper Gemstone Pendant, Linda Marie Plume Agate, Lace Agate & Tigerseye Accents ~ Riveted ~ One of a Kind Fantasy Piece ~ #P0066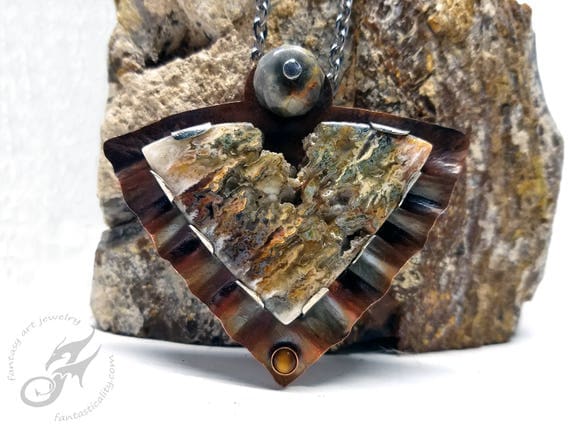 I just went Medieval on an incredibly beautiful, well cut and polished Linda Marie Plume Agate cabochon, setting it in the center of a ruffled copper shield via decorative nickel silver tabs, like prongs. This one of a kind statement pendant is regal and stately, warm and earthy, striking and rich in detail; the copper shield has been hammered along the edge, giving it a lovely reflective ruffled effect. The nickel silver tabs are riveted in place, adding just a bit of contrasting color as well as strength. A 12mm faceted crazy lace agate bead is riveted at the top via a bit of thick sterling silver wire; a 4mm tigers eye cabochon in a copper setting adds a bit of interest to the bottom. A very strong design, it has an enormous presence, yet is neither massive nor heavy. It wears much lighter than it looks; it is quite comfortable.
The entire necklace is cold connected, no solder - and absolutely no glue. With the exception of the cabochons and bead, I made everything myself from copper and nickel sheet and patina'd and polished it all by hand. It's built to last for generations. It's crafted for permanence. It's a forever piece.
The pendant comes with a stainless steel chain that adjusts from 18 to 21 inches long and is finished with a complimentary agate bead.
It has an air of fantasy about it - of the fantastic - but please don't assume this is strictly a costume piece. Sure, it would look great at the SCA or a Fantasy Con, but I designed this to look smashing - for either gender - with a shirt and blazer or a V-neck tee and leather jacket. I made this to be worn, and worn often.
Handmade with love by Robin Taylor Delargy of Fantasticality, in my home studio in Tacoma, WA. Signed and numbered (not shown).
Gift boxed.
#P0066
A Fantasticality (formerly LooLoo's Box) Original. Design, Photos and all content © Robin Taylor Delargy, All Rights Reserved.