Back to Product Listing
Dainty Industrial Steampunk Necklace ~ Watch Parts with Siam Red Swarovski Rhinestones ~ Mixed Metal, Stainless Steel Chain, #N0676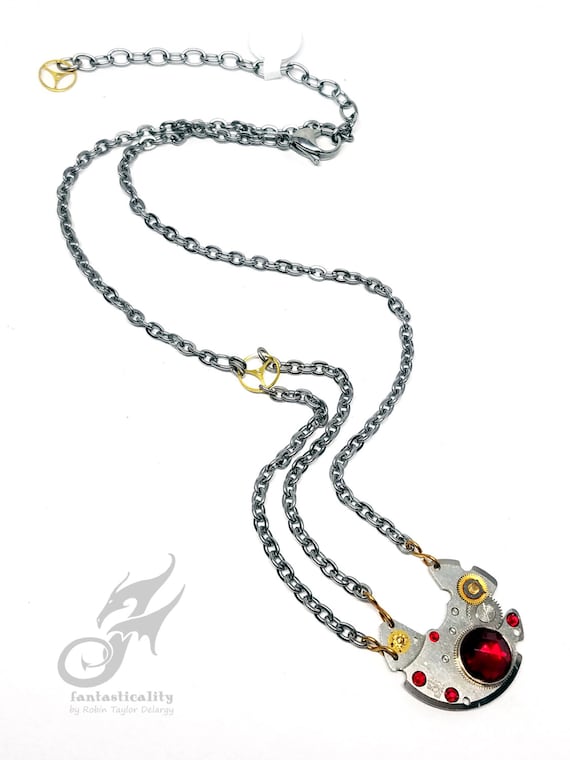 Who says steampunk has to be massive? This is a dainty Industrial Steampunk necklace made with vintage wristwatch parts embellished with new and vintage Siam Red Swarovski flat back rhinestones. The large rhinestone is set inside a mainspring bezel from a vintage wrist watch.
The necklace is asymmetrical, yet balanced. The chain and clasp are stainless steel, which means there's no plating to wear off and it doesn't tarnish. I have used a bright brass balance wheel as a connector; hand made brass infinity connectors attach the chain to the focal.
The focal measures about 1 inch in diameter; the necklace is 18 to 21 inches long.
Hand crafted in my home studio in Tacoma, WA. Signed.
Beautifully boxed for gifting.
#N0676
Want MORE??? Show me...
ALL the Steampunk: http://tinyurl.com/ALL-Steampunk
Steampunk Rings: http://tinyurl.com/Steamy-Rings
Steampunk Necklaces: http://tinyurl.com/Steamy-Necklaces
Steampunk Earrings: http://tinyurl.com/Steamy-Earrings
Steampunk Bracelets and Cuffs: http://tinyurl.com/Steamy-Bracelets
ArachneMachina Spiders: http://tinyurl.com/ArachneMachina
A Fantasticality (formerly LooLoo's Box) Original. Design, Photos and all content © Robin Taylor Delargy, All Rights Reserved.
.