Back to Product Listing
Industrial Steampunk Pendant, Pocketwatch Collage with Red Rhinestones, Brass Chain Bezel Border on Stainless Steel Box Chain #P0063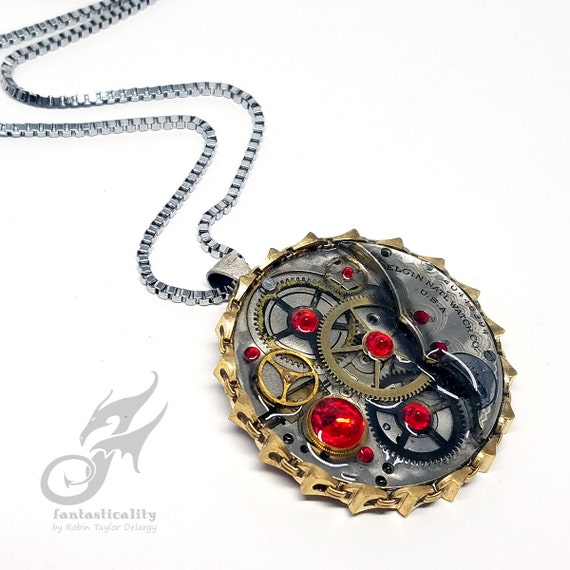 Presenting a fun addition to the WatchWerks Collection of steampunk-inspired necklaces that are a joint project between me and my husband, Neal. He always thought that often the best looking part of old mechanical pocket watches is the inner workings, and of course I agree. He took an interest in the bits and pieces I had on my work table... began reassembling them to suit his own fancy...and from there a collection - 'WatchWerks - was born! They are bold gender-neutral statement pieces with an Industrial / Steampunk vibe.
Neal has designed the collage focal of this piece from vintage pocket watch parts with Siam red rhinestones for a pop of color. The bezel surrounding the collage is solid yellow brass toothy chain; the back of the piece is a very old and faded 'Napoleon' pocket watch face. The completed pendant is then coated with jewelry grade Ice Resin for permanence, shine and optical magnification.
The focal measures 1-3/4 inches / 44mm in diameter with a 2 inch drop length. The pendant comes complete with a 20" stainless steel box chain, plus a 3" stainless steel extender. The lobster claw clasp is also stainless steel. This pendant will accommodate just about any chain, as the bail has a 4 x 6mm inner diameter.
This piece of One of a Kind art jewelry tells the world that you are strong and self-assured. I wear a similar piece quite often and it never fails to attract admiring compliments.
Like all my jewelry, this piece was hand crafted in my home studio in Tacoma, WA.
Signed and numbered. Beautifully boxed for Holiday gifting.
#P0063
A Fantasticality (formerly LooLoo's Box) Original. Design, Photos and all content © 2016 Robin Taylor Delargy, All Rights Reserved.