Back to Product Listing
Victorian Steampunk Spider Necklace ~ Mixed Metals ~ Resin Cabochon w/ Watch Gears, AB Rhinestones, Brass & Stainless Steel Chain #N0671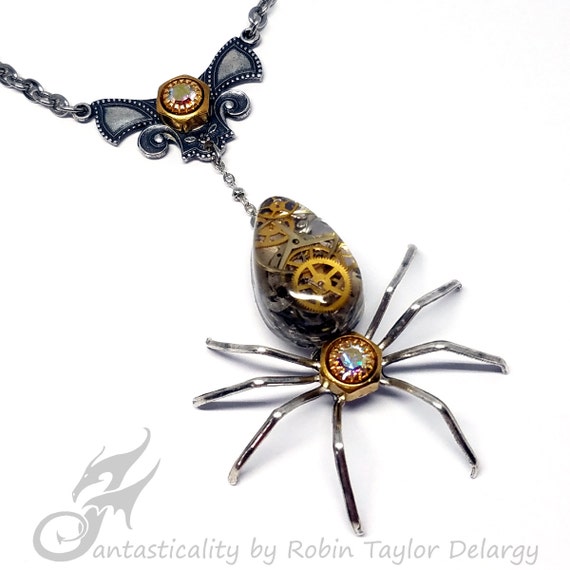 From my exclusive line of Victorian Steampunk spider sculpture jewelry and accessories comes ArachneMachina 'Jugulum'. Wouldn't this creepy crawly Steampunk spider look wicked with your best V-neck? Whether you consider her your 'minion' or a 'personal SpyBot', she is certain to attract attention wherever you go; she's a can't-miss-it bit of freakishly steamy whimsy, and no two are ever alike!
These clockwork spider bugbots* are my pride and joy and labors of love, meticulously crafted one at a time. The abdomen is one of my hand cast Ice Resin cabochons, choc full of gears & bits from defunct mechanical watches. The thorax 'power source' is a prong-set vintage Crystal AB Swarovski rhinestone rivet inside a brass hex nut setting, with a matching stone on the silver plated brass connector. The armature with legs is silver plated brass I have given a lifelike pose, one leg at a time. The chain is stainless steel, closing with a stainless steel lobster clasp.
Victoria is modeling a similar necklace to illustrate the scale.
All of the metal is Made in America.
* Not an actual robot ;-)
Measurements:
* Spider: approximately 1-5/8 inch leg span by about 1-3/4 inches.
* Necklace Length: to 18 to 21 inches
* Drop Length: 2-7/8 inches from top of connector
Like all my jewelry, this piece was hand crafted by me in my home studio in Tacoma, WA.
#N0671
A Fantasticality (formerly LooLoo's Box) Original. 'Fantasticality', 'ArachneMachina', Product Design, Photos and all content © Robin Taylor Delargy, All Rights Reserved.