Back to Product Listing
HARNESSED ~ Dragon Skin Fantasy Metalwork Statement Necklace ~ Copper & Brass w/ Fine Silver Rivets ~ Handmade Raku Pottery Cabochon ~ N0598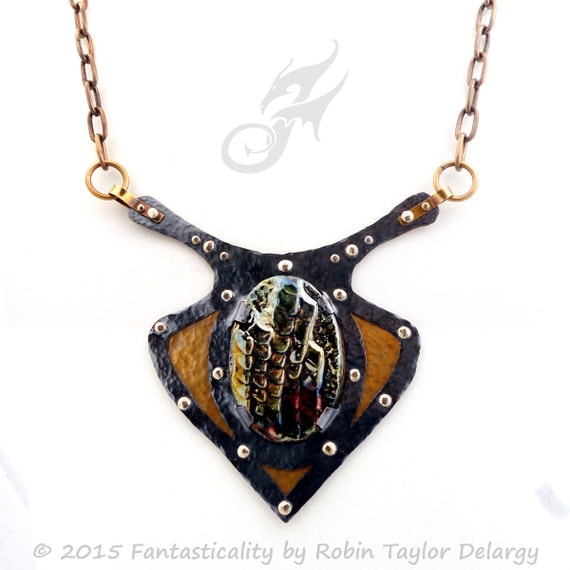 One of a kind, earthy, strong... tough, yet sexy. Hand cut copper over brass with handmade fine (.999) silver rivets. The focal cabochon is Raku-glazed pottery made by my friend Harry Wood of Oscarcrow. He took a mold off the skin of a large gar (fish)... but in my world those are dragon scales. This is a fantasy piece that can easily go from 'Cosplay' to 'Boardroom'.
This is an impressive piece; the focal measures about 4 inches square. It is designed to be worn at the base of the throat, framed by a V-neck or open collar. Substantial brass cable chain completes the look. The necklace adjust up to 22 inches long, closing with a heavy brass lobster claw. A matching Raku pottery bead dangles at the end of the chain.
Hand crafted in my home studio in Tacoma, WA. Signed and gift boxed.
#N0598
A Fantasticality (formerly LooLoo's Box) Original. Design, Photos and all content © 2015 Robin Taylor Delargy, All Rights Reserved.