Back to Product Listing
Dragon Bracelet, Slave Bracelet, Left Hand, Dark Bronze Patina Brass ~ Fantasy Bracelet ~ Inspired by Game of Thrones, Pern, Cosplay #B0168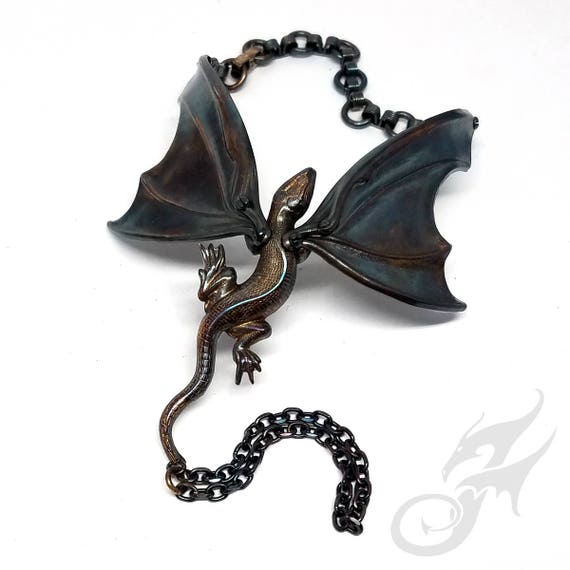 For as long as I can remember, dragons have captured my imagination. When I was a child I discovered Anne McCaffrey's Pern, with the proud dragonriders on their noble fire-breathing thread-destroying beasts... or the Harper girl Menolly and her nine fire lizards. More recently it's Daenerys Targaryen, the Mother of Dragons on Game of thrones that is firing my love of all things draconic.. so is it any wonder my love for these mythological creatures is reflected in my art?
Whether your destination be the Renaissance Fair, Cosplay with friends, a Game of Thrones viewing party, a meeting of the Dragonriders of Pern Fan Club, or dancing the night away... you'll fit right in wearing this beautiful 'handragon'.
This entire piece, as well as the chain, is made from 100% American made brass, hand finished by me with a lovely rich bronze brown patina - with hints of blue, green and red when the light hits it - that absolutely defies my photographic ability. The entire piece is constructed using tiny nuts & bolts and rivets - it is built like a tank. Closes with a foldover clasp, so it lies nice and smooth under your wrist.
NOTE: This is currently made to be worn on the LEFT hand, with the clasp on the inside of your wrist to make it easy to put on by yourself. If you prefer to wear it on your right hand, leave a note during Checkout and I will switch the clasp to the other side for you.
See my other items as I have made a right hand version of this as well.
FITTING: This is designed around a smaller dragon body so it will fit most hands, with some tweaking; the wings can be gently spread or squeezed to hug your wrist, and anyone with the tools and ability to properly manipulate jump rings can shorten the chains to customize the fit.
Hand crafted, by me, in my home studio in Tacoma, WA. Signed and numbered.
#B0168
A Fantasticality (formerly LooLoo's Box) Original. Design, Photos and all content © Robin Taylor Delargy, All Rights Reserved.