Back to Product Listing
Steampunk Evil Eye Cuff Bracelet ~ Flaming Glass Eye ~ Leather Lined ~ Brass w/ Chains ~ Cold Connected, Not Glued ~ Hand Patina #B0159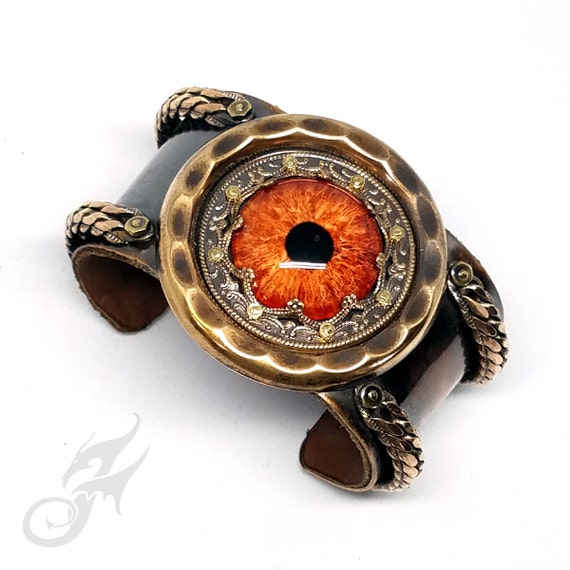 What do you see when you gaze upon the steampunk evil eye cuff bracelet? Gaze into Mystery... into the flaming orb of the all-seeing eye... is it an 'evil' eye at all? Perhaps it's simply a thing of beauty. That's enough.
A multi-process approach to patina can yield incredible results. The color is a rich brown to deep oil-rubbed bronze, adding rich depth to the steampunk evil eye cuff bracelet. An large hammerd-look brass mount and filigree overlay serves as the setting for the 25mm glass eye. Heavy patterned brass chain adds edgy texture to the sides of the cuff. I have lined the inside of the cuff with genuine cow leather in a matching warm blown hue.
The steampunk evil eye cuff bracelet is a superbly-crafted piece of wearable fantasy art. The entire piece is bolted together, NOT glued. Not only is it built like a tank, the bolts are an intrinsic part of the design. The entire steampunk evil eye cuff is made with American-made brass. No cheap imported metal components were used, and the only glue used is on the leather lining.
This is a medium size cuff, fitting up to a seven-inch wrist. The cuff itself is 1-1/2 inches wide; 1-7/8 inches at the focal and measures about 2-1/2 inches across inside, The fit can be customized somewhat by snugging it to your wrist. The style is gender-neutral, or Unisex - it's equally awesome on everyone.
Hand crafted by me in my home studio in Tacoma, WA. Signed and numbered.
#B0159
SHOW ME MORE!!!
ALL the Steampunky Goodness! http://tinyurl.com/ALL-Steampunk
Steampunk Rings: http://tinyurl.com/Steamy-Rings
Steampunk Necklaces: http://tinyurl.com/Steamy-Necklaces
Steampunk Earrings: http://tinyurl.com/Steamy-Earrings
Steampunk Bracelets and Cuffs: http://tinyurl.com/Steamy-Bracelets
A Fantasticality (formerly LooLoo's Box) Original. Design, Photos and all content © 2016 Robin Taylor Delargy, All Rights Reserved.