Back to Product Listing
REFLECTOR Series ~ Metalwork Earrings in Hammered Brass w/ Clear and Gold Glass, on Sterling Silver Ear Wires ~ #E0842 by RTD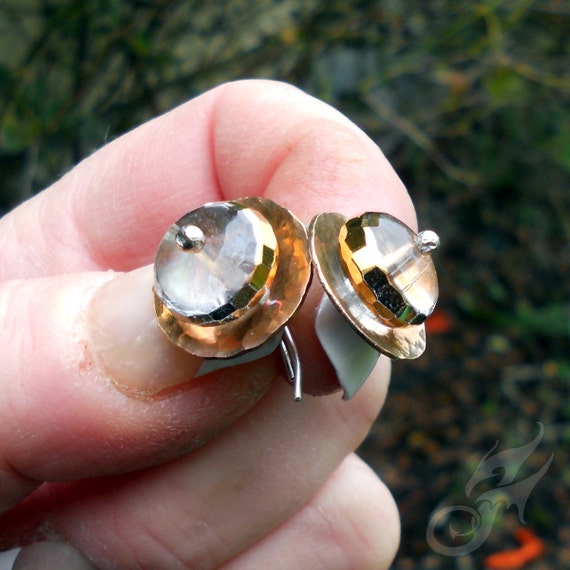 Beautifully designed for daily wear, these sterling silver and brass earrings will work for any occasion. Clean lines, straightforward, tailored, no nonsense... sleek and modern... simple elegance... and so very light and comfortable to wear.
The hand hammered and highly polished brass disks reflect the light back out through the crystal bead, like a parabolic reflector. The beads are faceted only on the equator, under the gold foil, creating interesting optical illusions. They gleam, they glimmer, they glow... and I just could not capture that in my photos, sigh... The ear wires are sterling silver.
The discs measure about 5/8 inch / 15mm with a drop length of 7/8 inch / 22mm. Shown on my life-size photographic ear model to illustrate the size.
This is a repeating design (until I run out of these beads) so you probably won't receive the exact pair in the photos. However, they are so similar that I could mix them all up and it wouldn't matter which got paired together.
Hand crafted in my home workshop in Tacoma, WA.
Gift Boxed.
#E0842
A Fantasticality (formerly LooLoo's Box) Original. Design, Photos and all content © Robin Taylor Delargy, All Rights Reserved.