Back to Product Listing
BULK Footage Stainless Steel Cable Chain By The Foot 4x3mm Flattened Links American Made Polished & Shiny Open Not Soldered SST3310XH2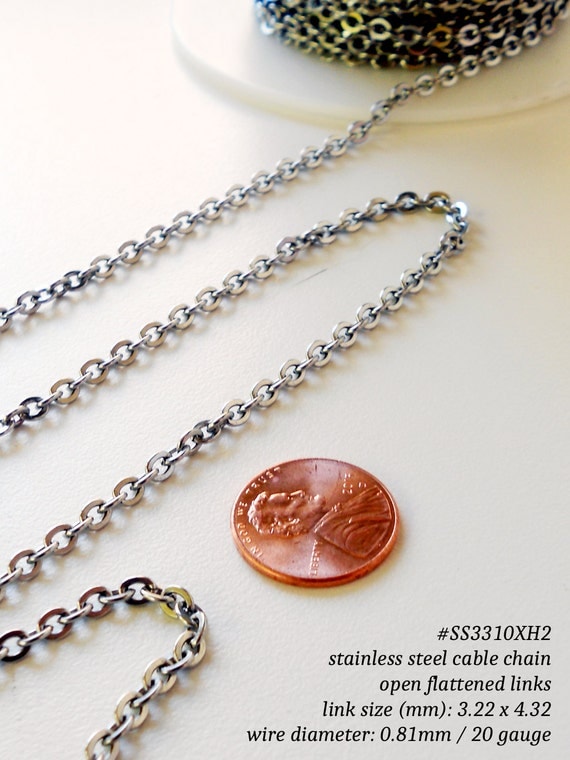 Clean shiny polished stainless steel cable chain for your jewelry making or craft projects. The links have been flattened on the long sides, reflecting the light for extra sparkle. The links are not soldered, so you can open and close them - no waste from cutting. Manufactured in the USA. Lead- and nickel-free. This chain has been polished by the manufacturer so it's nice and shiny. It is very strong, and is an economical alternative to sterling silver chain, especially for a pendant chain. Larger stainless chain is also available that makes great extender chain.
The black spots are the reflection of my black camera.
This is beautiful chain. I ordered from the manufacturer to use in my own designs.
Metal: 304L grade stainless steel
Link Size (mm): 3.22mm x 4.32mm
Wire Diameter: 0.81mm / 20 gauge
This chain is sold BY THE FOOT in one continuous length, bundled to prevent tangling. Please select the number of feet you want from the drop down menu.
Shipped from my home studio in Tacoma, WA.
#SST3310XH2