Back to Product Listing
WINGED LION Statement Necklace Victorian Gothic Steampunk Fantasy Cosplay Narnia Flion Manticore Leo Aslan Black Copper Plated Brass N0643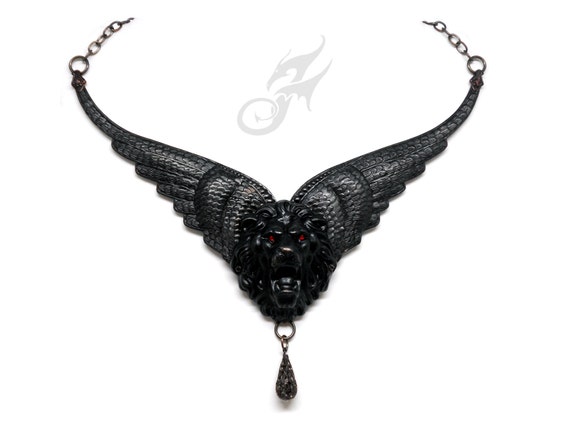 From my new Menagerie Fantastical Collection, this layered brass necklace - the largest of the F'Lions - makes a very strong statement. Like a feathered Manticore, the lion appears fierce, roaring it's defiance in a display of strength, power, pride... with wings to fly above the trials and tribulations of the mundane. The wings represent freedom.
Richly plated brass stampings are joined for eternity to create this impressive mythical winged lion Statement necklace. The plating is a layered finish, copper overlaid with solid black. I left the black top coat intact, rather than distressing it to reveal the copper below; the second photo was lightened a bit to show the detail. The piercing eyes are set with Swarovski crystals in the incomparable Siam red color. Beneath dangles a beautiful hand blackened brass filigree teardrop. The chain is solid copper that I have patina'd to match.
This piece works with several styles, blending well with Victorian, Goth and Steampunk, with an Old World Venician, Neo-Classical vibe. From 'leather jacket and jeans' to CosPlay! It would make a very strong statement worn with business attire, as well. Very gender neutral as well, suiting strong-minded people of all sorts.
The entire piece was cold-connected - the only glue used was to set the eyes. Closes securely with a copper plated lobster claw clasp. This piece is built to last for generations, as strong as the majestic creature it portrays. All of the metal is brass, made in America and lead- and nickel-free.
The focal measures about 7-1/2 inches across the wingtips with a drop of about 3-1/2 from the top of the lion's head. It is designed to be worn at the base of the throat, framed by a V-neck. Adjustable length, to about 24 inches long.
Modeled by Victoria, my hungry-looking mannequin. Other colors and finishes available, as well as sizes: https://www.etsy.com/shop/FANTASTICALITYbyRTD/search?search_query=lion&order=date_desc&view_type=gallery&ref=shop_search
Like all my jewelry, this piece was hand crafted in my home studio in Tacoma, WA.
#N0643
A Fantasticality (formerly LooLoo's Box) Original. Design, Photos and all content © Robin Taylor Delargy, All Rights Reserved.