Back to Product Listing
Victorian Steampunk SPIDER Pin Tack Pin Tie Tac Vintage Sapphire Blue & Siam Red Flat Back Rhinestones Bug Jewelry Lapel Pin Hat Pin Pin0131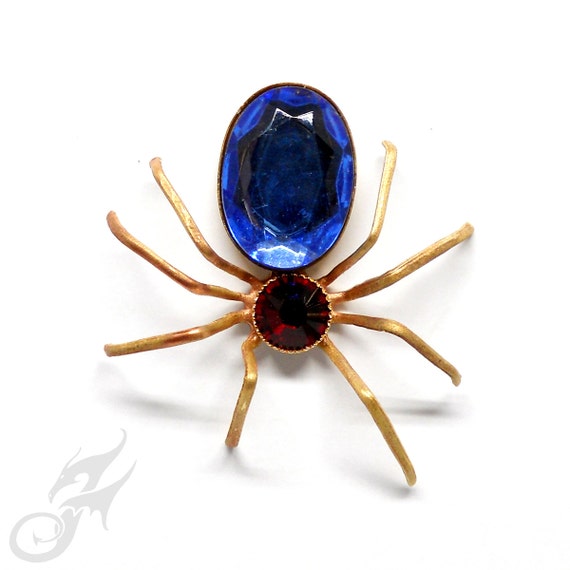 I've been making Victorian-inspired spider jewelry and accessories for several years now, but this is a bit of a departure for me as it isn't really 'mechanical'... but isn't she beautiful??? Wouldn't this creepy crawly Victorian-inspired spider look wicked on your jacket or blouse? Crawling up the back of your shoulder, skirt or pant leg? Pinned to a lamp shade, throwing eerie shadows? Pinning back a curtain?
Wherever you wear her, she's a can't-miss-it bit of buggish whimsy, and no two are ever alike! The abdomen is a vintage faceted flat back glass stone in Sapphire blue, while the thorax is a is a Siam red Swarovski flat back rhinestone; it's a classic color combination. The settings and armature with legs is brass with a hand rubbed patina, polished to a shine. The pin hardware is nickel plated brass, post & clutch style.
The pin post is under the abdomen, so this spider wants to be crawling DOWN.
Note: The blue stone, being vintage, is imperfect; there are some minor flaws in the foil back that are visible if you look very closely, as you can see in the photos; at normal viewing distance they aren't noticeable at all.
CHOOSE the clutch style that works for you (see photo): the Low Profile clutch (default) is for wearing on your breast, collar, hat or lapel; the Tie Tack clutch has a bar and chain to keep your tie from getting in your eyes when you do cartwheels, handstands and other feats of gymnastic awesomeness. It is also more suitable for thinner fabrics as it grips closer to the base of the post. The bar and chain is easily removed if you don't need it. If you don't choose, it will default to the low-profile lapel pin clutch in whichever plating I happen to grab first (nickel or gold plated). All are plated brass and very good quality.
The spider herself measures approximately 1-3/4 to 2 inches (44mm to 51mm) square. As you can see in the last photo (representing general size) the pose only affects the footprint a little bit; since they share the same armature, all my spider pins are pretty comparable in terms of size.
Want more spiders? Here's the entire currently available ArachneMachina™ line:
https://www.etsy.com/shop/FANTASTICALITYbyRTD/search?search_query=spider&order=date_desc&view_type=gallery&ref=shop_search
Like all my jewelry, this piece was hand crafted by me in my home studio in Tacoma, WA.
Gift Boxed.
#Pin0131
A Fantasticality (formerly LooLoo's Box) Original. Design, Photos and all content © Robin Taylor Delargy, All Rights Reserved.