Back to Product Listing
Winged Lion Necklace Swarovski Eyes Mythical Fantasy Victorian Style Steampunk Silver Plated Brass Stainless Steel Chain Topaz Crystal N0656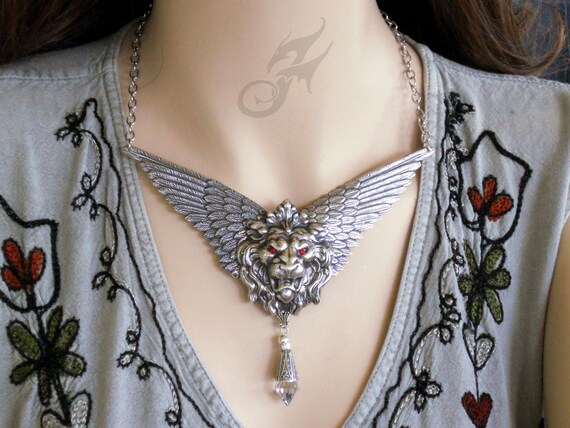 From my new Menagerie Fantastical Collection, this layered brass necklace - a F'Lion (or Flyon?) - makes a very strong statement. Like a feathered Manticore, the lion appears fierce, roaring it's defiance in a display of strength, power, pride... with wings to fly above the trials and tribulations of the mundane. The wings represent freedom.
Richly silver plated brass stampings are joined for eternity to create this impressive mythical winged lion statement necklace. The plating is high quality silver, brighter and cleaner-looking than the more common 'antique silver' finish. It looks very much like antique sterling silver flatware, and is a nice thick long-wearing plating. Beneath dangles a beautiful full-lead crystal chandelier prism beneath a beautiful bead cap in the same luxe plating. The chain is stainless steel, which harmonizes well and wears like... well, like steel.
The eyes are set with Swarovski rhinestones in glorious Siam red, and they pierce like lasers. SO bright!
This piece works with several styles, blending well with Victorian and Steampunk, with an Old World Venician, Neo-Classical vibe. From 'leather jacket and jeans' to CosPlay! It would make a very strong statement worn with business attire, as well. Be warned, though - you will likely attract a lot of attention!
The entire piece was cold-connected - the only glue used was to set the eyes. Closes securely with a silver plated lobster claw clasp. This piece is built to last for generations, as strong as the majestic creature it portrays.
All of the metal is American made, both the plated brass and the stainless steel chain. A wipe with a damp rag and an occasional once-over with a polishing cloth will ensure it remains bright. Completely lead- and nickel-free.
The wing span measures 5-1/2 inches, with a drop of about 3-1/2 inches from the top of the lion's head. The length is adjustable up to 23 inches.
Hand crafted in my home studio in Tacoma, WA.
#N0656
A Fantasticality (formerly LooLoo's Box) Original. Design, Photos and all content © Robin Taylor Delargy, All Rights Reserved.