Back to Product Listing
Winged Lion Slave Bracelet ~ Rose Gold Copper Plated Brass, Solid Copper Chain ~ Mythical Fantasy Victorian Steampunk Roaring Lion ~ #B0147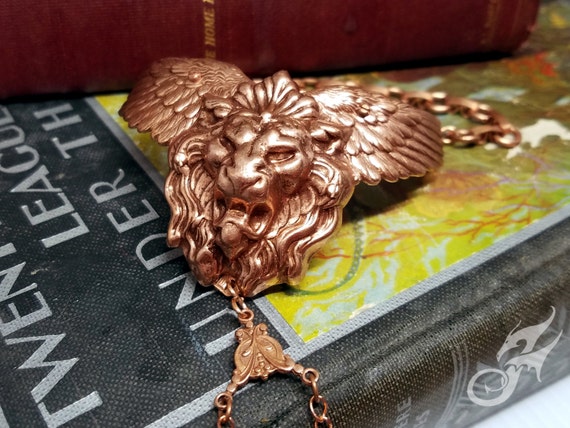 Richly plated brass stampings are joined for eternity to create this impressive mythical winged lion slave bracelet, or 'F'Lion', as I call them. The plating is copper with a bit of rose gold, lighter and fresher-looking than the more common 'copper ox' finish. The chain and foldover clasp are solid copper. Perfect for the Steampunk, Fantasy, Gothic, Medieval, Renaissance, Game of Thrones, Narnia, Leo or lion lover! Be warned, though - your hand may be grabbed repeatedly by admirers.
The entire piece is constructed with little nuts and bolts - aka 'Microscrews' - for permanence. Sturdy, well made, built to last.
All of the metal is American made, both the copper plated brass and the solid copper chain. A wipe with a damp rag and an occasional once-over with a polishing cloth will ensure it remains bright. Completely lead- and nickel-free.
This piece is made to fit a medium sized lady's hand; it can be gently bent to fit a slightly smaller or larger hand. Excess links around the wrist and the finger loop can easily be removed by anyone with basic jewelry-making pliers and experience opening and closing rings.
This piece is made to be worn on the left hand, but I can easily move the clasp to the other side if you'd prefer. Leave a note during checkout and I'll take care of it for you..
Hand crafted in my home studio in Tacoma, WA.
#B0147
A Fantasticality (formerly LooLoo's Box) Original. Design, Photos and all content © Robin Taylor Delargy, All Rights Reserved.