Back to Product Listing
Victorian Style LARIAT Necklace or Sash Belt Rainbow Patina Brass Black Glass Crystal Beads N0615 by Robin Taylor Delargy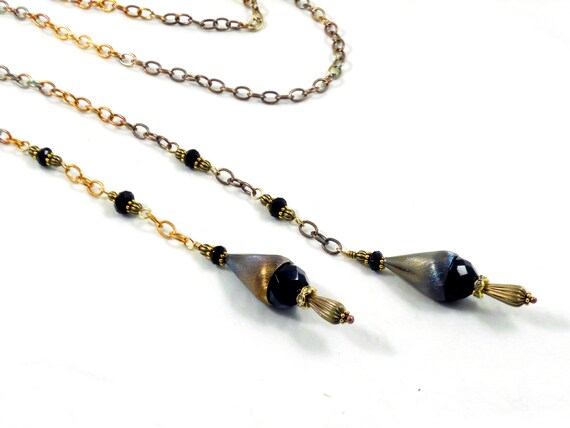 I have developed a love affair with the lariat; not the kind that hunky cowboys use on wayward cattle, but rather the long clasp-less necklaces that can be wrapped and tied and worn so many different ways. I love to make them, and I really love to wear them!
This one is very chic, defying stylistic categorization. Like me, it doesn't like being boxed in. Victorian, Boho, Art Deco... you could wear this with any of those styles and it wouldn't look out of place. This one is crafted from substantial brass cable chain that I have flame patina'd in glorious rainbow colors, with faceted black glass, flaim patina'd brass bead caps, brass beads and gold plated crystal rondelles.
This is a LONG lariat, measuring 56 inches long overall, with 46 inches of chain between the beaded end sections. The chain is brand new, American made (I order it in bulk from the manufacturer) - oh! those bead caps! are new brass and very special. Graceful brass cones, about 16mm wide, smooth at the top, graduating into a textured swirl at the bottom. Beneath each of the 14mm black glass beads is a beautiful vintage brass corrugated teardrop with crystal accents and brass beads. The overall length of the end dangles is a bit over 2.5 inches.
Total length: 56 inches
Length inside the bead caps: 52 inches
Chain length inside the beaded ends: 46 inches
(measurements are approximate, +/- 1/4")
The dangles are 16mm (about 5/8") wide.
The chain links measure 5.34 x 7.32 mm
The last three photos illustrate a few ways to wear this necklace - photographed on my faithful minion Victoria, life size if you are a 5'9", size 00-2 runway model. Victoria has a ridiculously swan-like neck, so three wraps around works for her. Most of us would wrap it twice... or double it and wear it like a scarf.
OR, wear it around your head like a head band, wrapped around your pony tail elastic, or... use your imagination!
Hand crafted, by me, in my home studio in Tacoma, WA.
Gift Boxed.
#N0615
© 2015 Fantasicality by Robin Taylor Delargy, All Rights Reserved.