Back to Product Listing
Metalwork Statement RING Size 8.5 - 9 Brass with Peridot Green Vintage Rhinestone R0085 by Robin Taylor Delargy, FantasticalityByRTD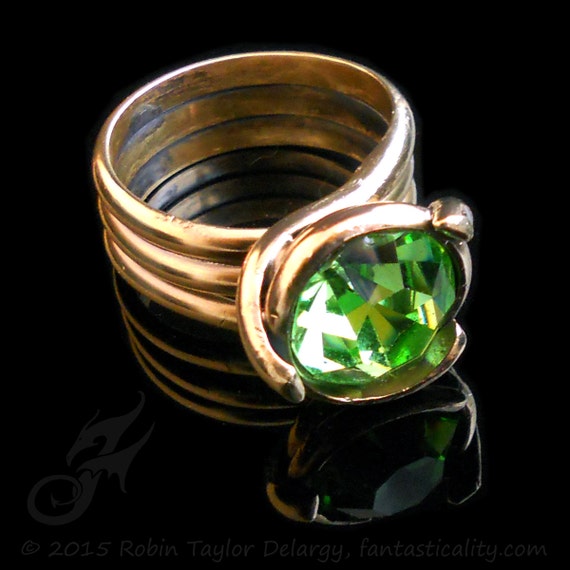 Showing a little love for the big gals, like me, as this One of a Kind statement ring is scaled very nicely for the large hand. Measuring 16mm in diameter, the ring top is large without being 'chunky', as the ring is harmonious and graceful in design and execution.This is a generous size 8 on my stepped ring mandrel, not quite making it up to the size 9 step... but fingers are more flexible than steel. It should fit a size 8.5 to 9 finger.
The large peridot green vintage rhinestone (about 11mm) is set into a brass setting atop a nearly 8mm wide band. The entire ring is scratch built; the band and the setting are each crafted from one continuous piece of heavy brass half-round wire. After soldering the band loops closed and the setting to the band, the ring was patina'd, polished and sealed with Renaissance Wax. The inside is smooth and comfortable to wear and the stone flashes with your every movement.
This ring doesn't just make a statement... it sings!
Hand crafted in my home studio in Tacoma, WA. Gift boxed.
#R0085
A Fantasticality (formerly LooLoo's Box) Original. Design, photos and all content © 2015 Robin Taylor Delargy, All Rights Reserved.