Back to Product Listing
Metalwork Tiger's Eye Gemstone and Brass Shield Necklace with Handmade Riveted Chain ~ One of a Kind Fantasy Piece ~ #N0571 by RTD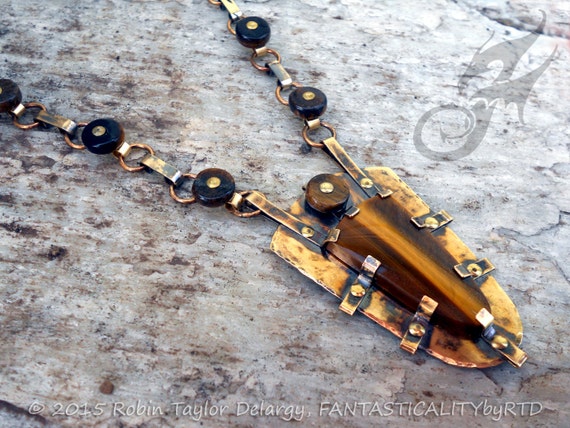 I just went Medieval on an incredibly beautiful, well cut and polished chatoyant* tiger's eye cabochon, setting it in the center of a slender brass shield via decorative tabs, like prongs. Fit for a valiant knight or a warrior princess, this one of a kind statement necklace is regal and stately, warm and earthy, striking and rich in detail: The central shield has been hammered along the edge, giving it a bit of sparkle. The tabs wrap to the back and are riveted in place, like straps. Seven beautiful 10mm tiger's eye disc beads are riveted on for extra oomph, at the top of the shield and on six of the handmade chain links. A very strong design, it has an enormous presence, yet is neither massive nor heavy. It wears much lighter than it looks; it is quite comfortable.
I wanted it to evoke the long-ago, real or imagined, so I stuck with fabrication techniques that would have been used in Medieval times; the entire necklace is cold connected, no solder - and absolutely no glue. With the exception of the tiger's eye cabochon and beads, I made everything myself from raw brass (both red and yellow) and patina'd and polished it all by hand. It's built to last for generations. It's crafted for permanence. It's a forever piece.
It has an air of fantasy about it - of the fantastic - but please don't assume this is strictly a costume piece. Sure, it would look great at the SCA or a Fantasy Con, but I designed this to look smashing - for either gender - with a shirt and blazer or a V-neck tee and leather jacket. I made this to be worn, and worn often.
I made a hook closure for this piece, because it's period-appropriate and very easy to use. The hook fits through any ring on the chain, making the length adjustable up to 20 inches long. The focal measure 1-1/2 by 2-3/4 inches. The chain links are about 1/8 inch wide; the rings are 9mm (about 3/8") in diameter. The piece is signed on the back of the focal. A photo of the back is available upon request.
I have included a pair of matching earrings on sterling silver ear wires (photo #4). The drop length on the earrings is 1-1/2 inches.
*A chatoyant stone has a changeable luster; it 'shifts' when viewed from different angles. In the case of this particular stone, it was masterfully cut so the chatoyant strip runs right down the center of the stone. The effect defies my camera; it is even better in person.
Handmade with love by Robin Taylor Delargy of Fantasticality, in my home studio in Tacoma, WA.
Gift boxed.
#N0571
A Fantasticality (formerly LooLoo's Box) Original. Design, Photos and all content © Robin Taylor Delargy, All Rights Reserved.