Back to Product Listing
Steampunk Metalwork Antique Pocket Watch Pendant Necklace with Winding Key on Heavy Vintage Brass Rope Chain ~ #N0570 Fantasticality by RTD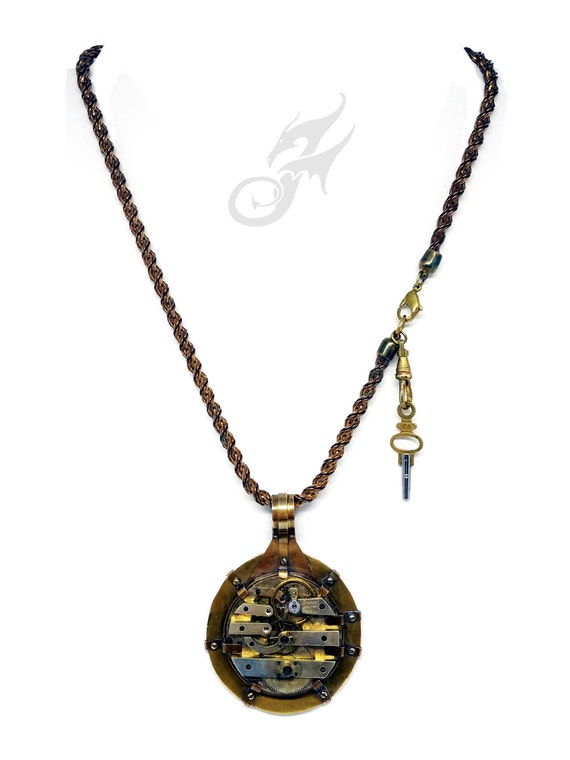 Steampunk meets Industrial and the result looks kind of... useful, doesn't it? Could it be an artifact, a Time Harness, lost by a Traveler while passing through our place and time? I can't help but suspect that if one knew the proper way to use that key, just about ANYTHING could happen!
This incredible high end 'designer steampunk' statement pendant necklace is one of a kind, as unique and striking as you are! Handcrafted from raw sheet brass, each piece has been cut, shaped, filed, drilled and soldered/ riveted/ bolted in place, then oxidized and polished by hand to an artfully distressed shine. It is set with a beautiful gilt brass antique pocket watch movement. The pendant hangs on a 6mm thick (nearly 7mm at the end caps) vintage brass fancy rope chain with a lovely original patina. At the clasp I have set a genuine pocket watch key to dangle; it fits the both the winding and setting cocks, but the movement doesn't wind. It's just there to add a bit of extra awesome, since the clasp on chains does tend to work their way around to the front. Might as well make it a feature, right?
Perfectly gender-neutral, this piece truly is a One of a Kind statement piece, a luxurious expression of your individuality. Beautifully made and finished; all the nuts and bolts are nice and smooth on the back, so there's nothing to scratch your skin or snag your clothing. The chain holds the weight of the pendant quite comfortably and is large enough to visually balance the pendant.
The pendant measures 2-1/8 inches across with a 3 inch drop length. Chain length: 20-1/2 inches.
Handmade with love by Robin Taylor Delargy of Fantasticality, in my home studio in Tacoma, WA. Signed on the back. Photo of the back available upon request.
Gift boxed.
#N0570
A Fantasticality (formerly LooLoo's Box) Original. Design, Photos and all content © 2015 Robin Taylor Delargy, All Rights Reserved.