Back to Product Listing
STEAMPUNK Clock Gear Tack Pin ~ Brass w/ Prong-Set Vintage Red Rose Cut Rhinestone ~ Two Posts ~ For Hat, Lapel or Jacket ~ #Pin0073 by RTD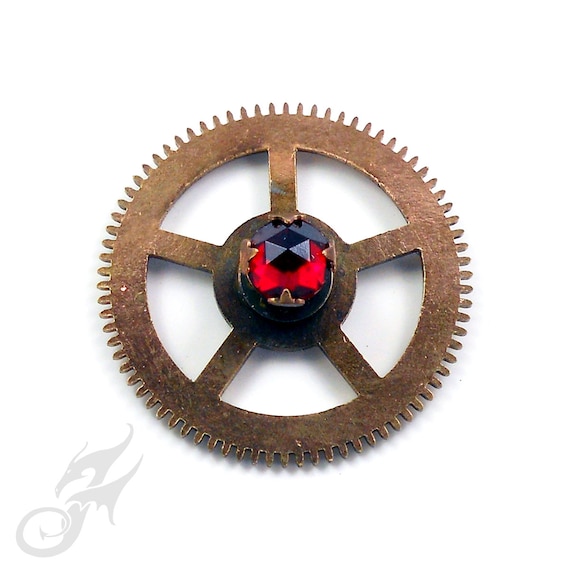 The epitome of Steampunk style, this two-post tack pin is made from a genuine brass clock gear, embellished in the center with a vintage glass rose cut Siam red rhinestone cabochon in a four-prong setting. The gear has the wonderful distressed patina that only time can bestow.
The brass pin posts are hard soldered for permanence, and come with high quality gold plated brass low profile spring clutches. Using two posts holds the pin very securely and allows it to be positioned however you like. As you can see in the photo, it looks quite dashing on your best top hat.
40mm / 1-9/16 inches in diameter.
Hand crafted in my home workshop in Tacoma, WA. Signed on the back.
Gift Boxed.
#Pin0073
A Fantasticality (formerly LooLoo's Box) Original. Design, photos and all content © 2015 Robin Taylor Delargy, All Rights Reserved.