Back to Product Listing
Coffin Lid Tack Pin w/ Gothic Cross ~ Hammered Brass, Riveted & Soldered ~ Two Posts ~ #Pin0083 by Robin Taylor Delargy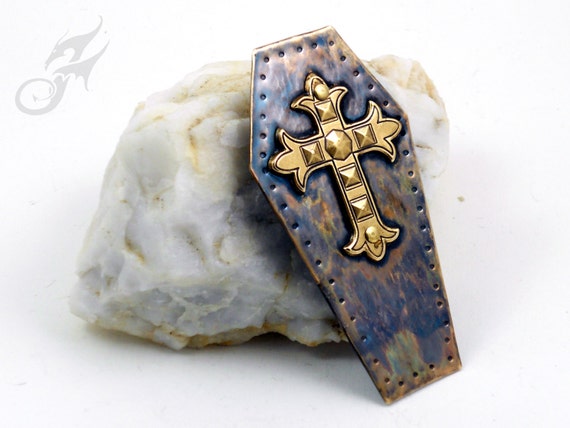 'KNIGHTFALL' is my line of Gothic inspired coffin jewelry, featuring various motifs. No two are exactly alike. The image in my mind is the final resting place of a knight of yore - hence the name - but it certainly ties in with vampire mythology as well. Ancient in feel, dark and moody, rustic, primitive, a bit spooky yet tasteful - this is so much more than Halloween jewelry.
Hand cut from plate brass, the coffin lid is hammered for texture - down to the coffin nails - and a ornate and imposing medieval / Gothic style brass cross is riveted to the front. The coffin 'lid' has been given a dark warm bronze patina with subtle color play; this is so much cooler in person.
The pin measures 2-9/16 in./65mm by 1-5/16 in./32mm. Two brass tack pins with good quality gold plated brass clutches keep the pin from swiveling, so you can pin it at a slant... on your collar, perhaps.
Hand crafted in my home workshop in Tacoma, WA. Signed on the back.
Gift Boxed.
#Pin0083
A Fantasticality (formerly LooLoo's Box) Original. Design, Photos and all content © Robin Taylor Delargy, All Rights Reserved.